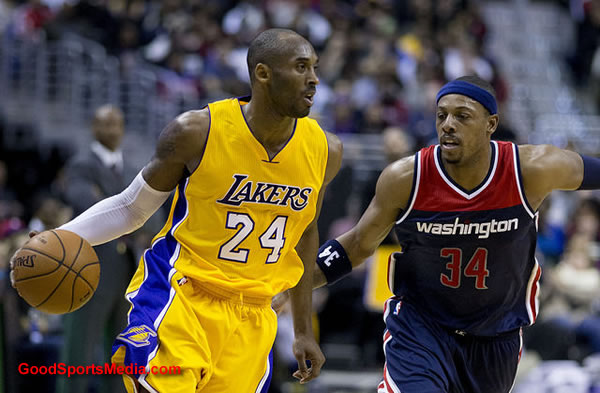 One of the most famous and maybe the greatest basketball players of this time, Kobe Bryant, if his legs hold out, will play his final professional game at the LA Lakers home court against the Utah Jazz on April 3, 2016. And ticket prices are already climbing in price four months away!
Bryant announced his retirement Sunday night. He's played for the Lakers since he signed as an 17-year old in 1996, and holds franchise records in points and games played, among other records.
Yes, We have a link if you want to get them early… Tickets to Kobe Bryant's last game.
"With 17 NBA All-Star selections, an NBA MVP, five NBA championships with the Lakers, two Olympic gold medals and a relentless work ethic, Kobe Bryant is one of the greatest players in the history of our game," NBA commissioner Adam Silver said in a statement.
Kobe Bryant has helped the Lakers win five NBA championships over a 20-year career.
At 34 years and 104 days of age, Bryant became the youngest player in league history to reach 30,000 career points. He is also the all-time leading scorer in Lakers franchise history. Since his second year in the league, Bryant has been selected to start every All-Star Game. He has won the All-Star MVP Award four times (2002, 2007, 2009, and 2011), tying him for the most All Star MVP Awards in NBA history. At the 2008 and 2012 Summer Olympics, he won gold medals as a member of the U.S. national team. Sporting News and TNT named Bryant the top NBA player of the 2000s.
Photo> CC License Flickr
---
---